Experience Audi's unrelenting commitment to performance with the 2019 Audi R8 , now in Houston

Pure. Uncompromising. Performance. It defines the 2019 Audi R8, infusing every aspect, every piston, bolt, and curve with the sole goal of providing that unbridled thrill of speed and precision. Audi's dedication to the craft and creation of a more perfect breed of performance coupe has earned the 2019 Audi R8 the title of Performance Car of the year at the 2016 World Car Awards…as well as the envy of many of its competitors. For those who've always dreamed of owning a race car, the 2019 Audi R8 practically demands a spot at the top of your list, and we're confident that once you've had the chance to test drive this purebred performance car here at Audi Sugar Land, you'll easily see why it's one of the most sought-after sports cars on the market today.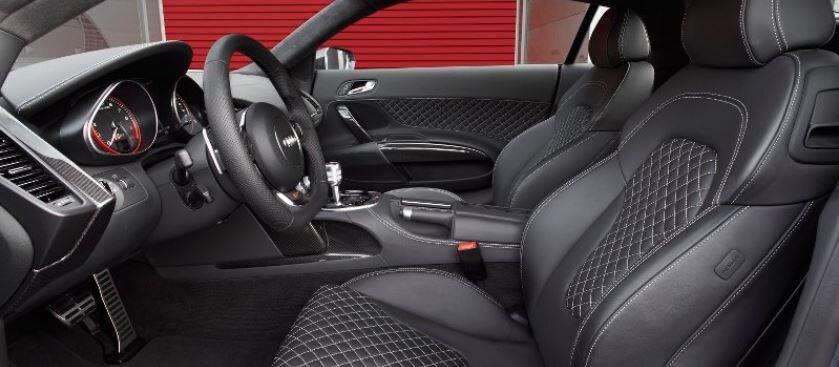 Now, as any good performance car enthusiast, if you're reading this you, want to know about one key factor when it comes to the 2019 Audi R8 : performance credentials. You want to know that when you put the pedal to the floor in the Audi R8, you're going to get that surge of adrenaline that you so dearly crave. Well folks, we here at Audi Sugar Land are happy to say that the Audi R8 will not disappoint. Coming available in two distinct trims, the 2019 Audi R8 can be had with naturally aspirated 5.2-liter V10 engine that positively hammers out 540 horsepower, or the V10 Plus which amps up the output to 610 horsepower, driving its 0-60 mph time down to a meager 3.2 seconds. Naturally, both options come mated with Audi's legendary quattro® all-wheel drive, and with the ultra-light carbon composite and aluminum body based on the design of Audi's champion R8 LMS race car, the 2019 Audi R8 is more than well-equipped to deliver white- knuckle acceleration that would make most rockets jealous, and still carve its way through corners with deft precision. Top it all off with outstanding innovations and technologies like the Audi virtual cockpit system, Audi MMI® navigation plus touchscreen infotainment system, and even a Bang & Olufsen premium 13-speaker sound system, and we think you'll find that the 2019 Audi R8 isn't just a fun car to take to the track, it's also plenty comfortable and full-featured for those days you just want to drive around town and turn some heads.
For performance drivers of truly discerning taste, the Audi R8 offers ample power, champion precision, and plenty of luxury features to suit your needs. If you're interested in this thrilling performance coupe, stop in to our greater Houston, TX Audi dealership to speak with our friendly, experienced Audi sales associates about scheduling at test drive, and see how the Audi R8 can reignite your passion for driving today!