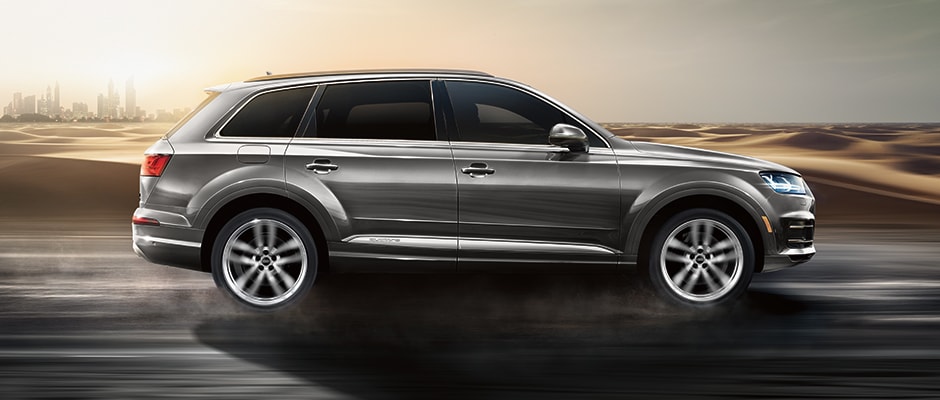 Discover a truly well-rounded seven-seater luxury SUV with the 2017 Audi Q7 from Audi Sugar Land
The 2017 Audi Q7 is a paragon among seven-passenger luxury SUVs. Boasting the competitive capacity that drivers and families crave, alongside a supremely refined interior accented with the latest Audi technology, and impressive performance credentials to boot, the 2017 Audi Q7 is a jack of all trades, and a surprisingly, a master of all trades at the same time. This luxury SUV easily ranks among the most sought-after vehicles we have in stock here at Audi Sugar Land, and we're certain that you'll find it's the perfect SUV to suit you and your family's needs once you've slipped behind the wheel.
The exterior of the 2017 Audi Q7 is sleek and modern, boasting a lithe silhouette that deftly hides its seven-passenger capacity. However, despite its aerodynamic form factor, the Audi Q7 is pleasingly spacious on the inside, easily accommodating passengers large and small in its comfortably crafted leather upholstered seating. Accenting the already upscale feel of the 2017 Audi Q7 cabin are standard features like a panoramic sunroof, three-zone automatic climate control, heated power front seats with driver memory settings, and the 7-inch Audi MMI infotainment system with Bluetooth phone and audio connectivity. However, as capacious and high-quality as the 2017 Audi Q7's interior is, it's still incredibly versatile. With all rear seating folded down, the Audi Q7 opens up to reveal up to 71.6-cubic feet of cargo area, making it perfect for hauling large luggage and gear.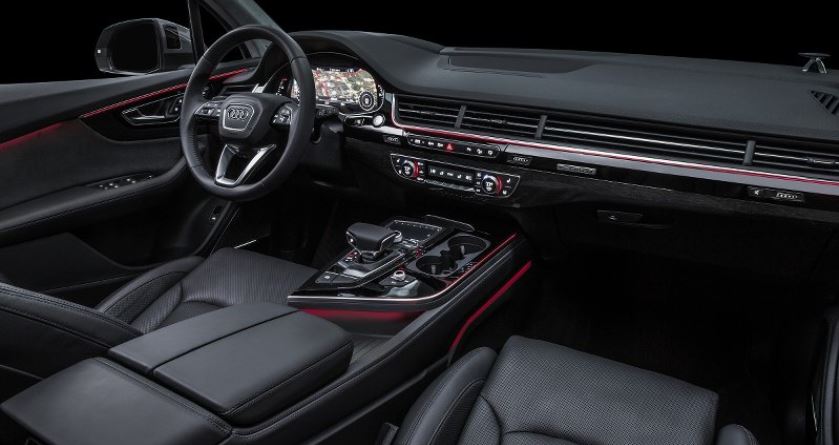 On the road, you may be surprised to find that while the 2017 Audi Q7 may be a seven-seater SUV, it certainly doesn't drive like one. Audi has leveraged the best of its performance engineering, crafting a driving experience that's both exceedingly refined and pleasantly sporty. Peek under the hood, and you'll find the 2017 Audi Q7 is powered by a 3.0-liter V6 engine, capable of up to 333 horsepower and 325 pound-feet of torque. Coupled with its eight-speed transmission, quattro all-wheel drive, and finely tuned suspension, the 2017 Audi Q7 provides the agile acceleration of an SUV half its size, while taking to corners and inclement road conditions with an uncompromising grip. Truly, the Audi Q7 embraces Audi's motorsport heritage, and it'll prove the perfect SUV for those who need the extra space, but still want to enjoy some spirited driving on the weekends.
All told, the 2017 Audi Q7 is the full package in the seven-seater SUV market, and it easily ranks as one of our most popular models here at Audi Sugar Land. We're proud to host the new 2017 Audi Q7 with all its trim levels and package options right here at our Sugar Land, TX dealership, so if you're looking for a finely crafted luxury SUV with plenty of space for friends, family, and luggage, we'd like to invite you to see this exceptional vehicle for yourself. Feel free to stop in to Audi Sugar Land to browse our full selection of new Audi models and take a test drive with the new 2017 Audi Q7 today!
>>> Browse for a 2017 Audi Q7